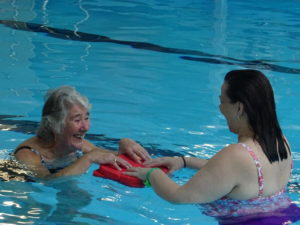 Waders offers exercise in water for people with physical difficulties.
Whether your problem is neurological (eg MS), orthopaedic (eg fracture, joint replacement) or rheumatic (eg arthritis, fibromyalgia, CRPS) in origin, it is likely that you will benefit from exercise in water. Buoyancy enables you to perform activities which are often difficult or painful on dry land.
We offer the following sessions:
Laindon Pool
Tuesdays 7.30-8.10pm / 8.20-9.00pm
Sessions at this pool are currently full.
We are not accepting new members here at this time
Blackshots Teaching Pool
Tuesdays 8-9pm
Corringham Pool
Fridays 11.30-12.10pm / 12.20pm-1pm
Please telephone before attending your first session so you know what to expect and to book your slot each week. Please bear with us. Numbers allowed in each session have been reduced so you may not be able to attend every week.
Sharon 07792 827638 for Laindon,
Kay-Anne 07899 745020 for Corringham,
Dawn 01375 461885 for Blackshots.
Physio assessments are done online and by telephone. If you are new, before booking you your first slot, please download the Assessment Form, (You will need to print it to complete it) then return to our Aquatic Physiotherapist, Ankie (Corringham & Laindon), who will call you for a chat, or our Physiotherapist, Deana (Blackshots).
Laindon session costs £7 including pool entry. The water is warmer.
Blackshots and Corringham sessions cost £5 including pool entry.
Annual membership is £15 (Jan-Dec).

If you have angina or asthma, bring your tablets or inhaler to the poolside with you.
If you need help, your carer may join you free of charge. Corringham and Blackshots have disabled changing facilities, a poolside hoist with a maximum weight of 25stone/158kg. Laindon has three steps up and five down with a handrail to access the pool, a larger changing room for disabled and a seat in the showers.
Please be careful when walking in the changing rooms and around the pool. Walking aids can increase the risk of slipping on wet floors. Please use the Walking Frame provided instead.
Take extra care!
Please remember – Attendance is at your own risk!

For a leaflet, please click below