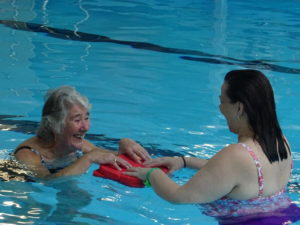 Waders offers exercise in water for people with physical difficulties.
Whether your problem is neurological (eg MS), orthopaedic (eg fracture, joint replacement) or rheumatic (eg arthritis, fibromyalgia, CRPS) in origin, it is likely that you will benefit from exercise in water. Bouyancy enables you to perform activities which are often difficult or painful on dry land.
****CORONA VIRUS UPDATE****
Blackshots Teaching Pool has not yet reopened.
The pool at Laindon has been open for a few weeks. Please call Sharon (07792 827638) if you wish to attend.
Coringham Pool is now open and we hope to restart sessions from 16th October 2020. We are in the process of finalising our risk assessment and guidelines. Kay-Anne and Rosemary are trying to ring all our Friday members. If you have not yet heard from one of us, please call Kay-Anne (07899 745020).
Each member is responsible for deciding whether they feel safe enough to return and no-one will be judged on their decision. Our health health and safety is far too important.
It will be essential for members to let us know if they are attending as numbers are restricted and you may not be able to attend every week.
The new rules and procedures can be accessed through our Covid-19 page along with those from SwimMania for Laindon. The others will be there when they become available.
PLEASE STAY SAFE EVERYONE
We offer five sessions per week as follows:
Laindon Pool
Tuesdays 7.30-8.30pm
Blackshots Teaching Pool (Not yet open)
Tuesdays 8-9pm
Corringham Pool
Fridays 11.00-11.45am / 11.45am-12.30pm / 12.30-1.15pm
Please telephone before attending your first session so you know what to expect and because times and physio do sometimes change.
Sharon 07792 827638 for Laindon,
Kay-Anne 07899 745020 for Corringham,
Dawn 01375 461585 for Blackshots.
Laindon session costs £6 including pool entry. The water is warmer.
Blackshots and Corringham sessions cost £4 including pool entry, plus refundable 50p for the locker.
Annual membership is £15 (Jan-Dec).
Please arrive twenty minutes to half hour early for your first session to allow time for getting changed, and a brief assessment including a short assessment form, which you will need before you are allowed in the water. If you arrive late, there won't be time for an assessment first and you will be asked to watch on this occasion and join in next time. You may wish to complete the Form before you come. Please print it out and bring it with you for the aquatic Physiotherapist.

If you have angina or asthma, bring your tablets or inhaler to the poolside with you.
If you need help, your carer may join you free of charge. Corringham and Blackshots have disabled changing facilities, a poolside hoist with a maximum weight of 25stone/158kg. Laindon has three steps up and five down with a handrail to access the pool, a larger changing room for disabled and a seat in the showers.
Please be careful when walking in the changing rooms and around the pool. Walking aids can increase the risk of slipping on wet floors. Please use the Walking Frame provided instead.
Take extra care!
For a leaflet, please click below